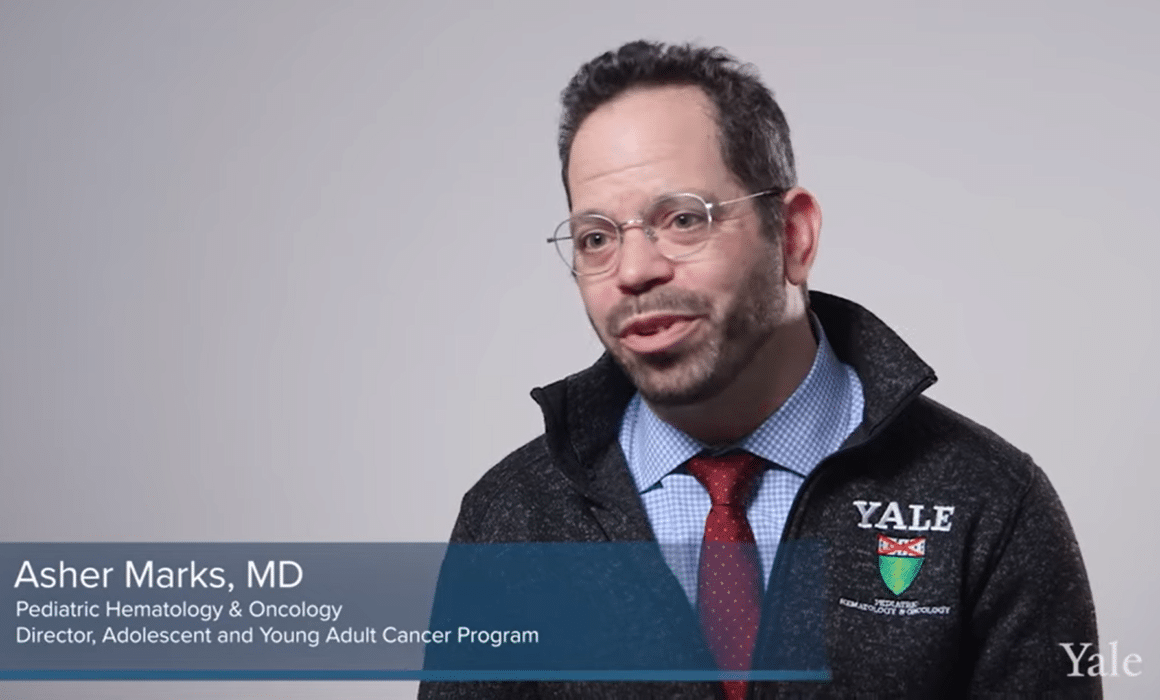 "It's that point in growth where you are stuck. You're in between childhood and adulthood. You are trying to work your way through … the social structure of the world."
-Asher Marks, MD
"And then you throw a cancer diagnosis on top of that, and … everything else takes a back seat."
-Amanda Garbatini, LCSW

Meet Dr. Asher Marks and Amanda Garbatini
At Yale Medical School, Dr. Asher Marks and Amanda Garbatini are at the forefront of bridging the gap between medical treatment and mental health support for adolescents with cancer. Their commitment to improving the well-being of these young patients is truly commendable. They work with a population with particular struggles, conducting clinical research using emerging technology and writing a protocol to address every possible challenge that might occur using virtual reality remotely with the pediatric population.
Research Population and Measures
One of the significant barriers to effectively treating adolescent cancer patients is their mental health. Anxiety and depression can hinder the healing process, making it crucial to integrate mental health support into their treatment plans. Yale's groundbreaking research focuses on assessing the impact of VR-based interventions on adolescent cancer patients' resilience, depression, and anxiety. By carefully measuring these parameters, they aim to understand how VR can be used to bolster psychological well-being during cancer treatment.

Results That Inspire Hope
The clinical progress observed through this innovative approach is nothing short of inspiring. Preliminary results indicate that VR experiences provided using Foretell's platform can significantly enhance the resilience of adolescents with cancer while reducing their levels of depression and anxiety.
The Power of VR
Foretell's VR platform offers a diverse range of activities that cater to the unique needs of adolescent cancer patients. From guided relaxation sessions to immersive experiences that transport them to serene environments, VR becomes a therapeutic tool to ease their emotional burden. As Amanda Garbatini aptly puts it, VR creates a "safe space" for these young individuals. It offers them a respite from the harsh realities of cancer treatment and allows them to explore soothing and engaging environments, fostering a sense of empowerment and control over their own experiences.

Conclusion
Yale Medical School's collaboration with Foretell is an example of how innovative technologies can enhance the treatment of difficult diseases. By addressing the mental health needs of adolescents with cancer, they are not only enhancing their quality of life but also paving the way for connections, friendships, and support within an isolating journey. Through VR peer support groups, the journey of healing becomes a holistic experience that empowers young patients to conquer their challenges and emerge stronger than ever before.
Read the research protocol below:
JMIR Research Protocols – Use of Immersive Virtual Reality Spaces to Engage Adolescent and Young Adult Patients With Cancer in Therapist-Guided Support Groups: Protocol for a Pre-Post Study
About Foretell
Foretell is dedicated to improving the lives of patients and healthcare providers through the transformative power of virtual reality. To learn more about Foretell and how it is transforming the healthcare landscape, visit our website.