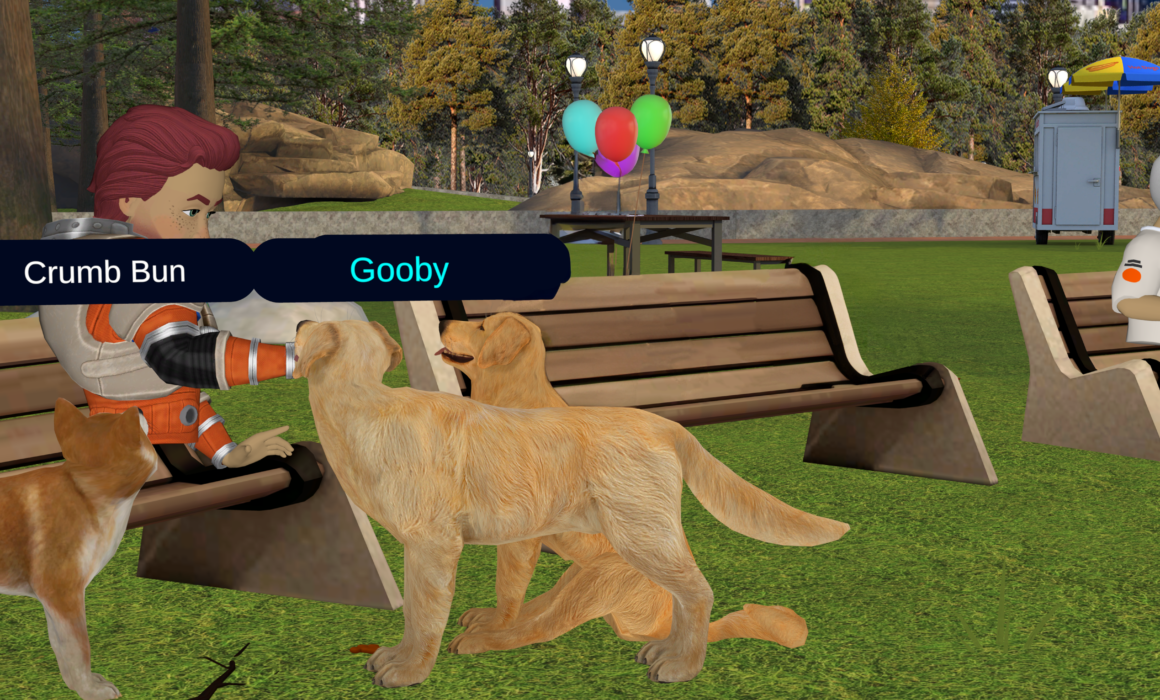 One unique application of VR is found in Foretell Reality's virtual dog park—a digital haven designed to combine the therapeutic benefits of social recreational activities and the unconditional love of our furry friends: Crumb Bun, Gooby, and Mabel!
A "Pawsitive" Approach to Recreational Therapy
Recreational therapy has long been recognized as an effective way to enhance physical, emotional, and psychological well-being. Its goal is to help individuals cope with challenges, improve their quality of life, and achieve a sense of joy and accomplishment. With the advent of virtual reality, this therapeutic approach has taken a giant leap forward, allowing users to engage in activities that transcend the limitations of the physical world.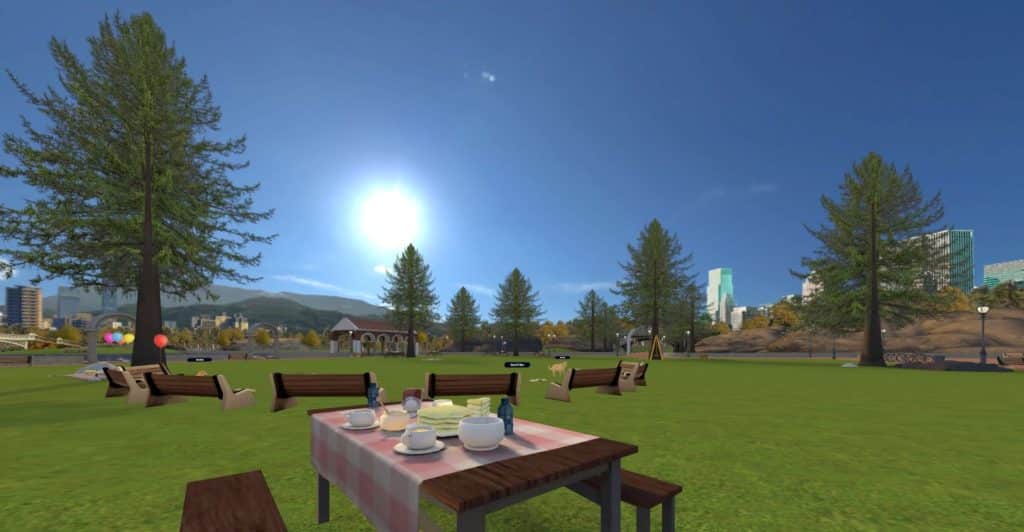 Step into the Virtual Dog Park
Imagine putting on a VR headset and finding yourself standing at the entrance of a picturesque dog park with an urban background, bathed in warm sunlight. Lush greenery surrounds you, and the air is filled with the joyous barks and playful antics of virtual dogs of different breeds and sizes. This is the virtual dog park offered by Foretell Reality—a digital space where users can immerse themselves in an oasis of serenity and happiness.
The Healing Power of Interaction
The heart of the virtual dog park lies in its lifelike interactions. Users can approach the virtual dogs, kneel down, and even pet them using VR controllers. They can also give them treats, throw them toys, and play games with them and their peers. Studies have shown that physical interaction with animals can lead to reduced stress, lowered blood pressure, and increased release of oxytocin—the "bonding hormone."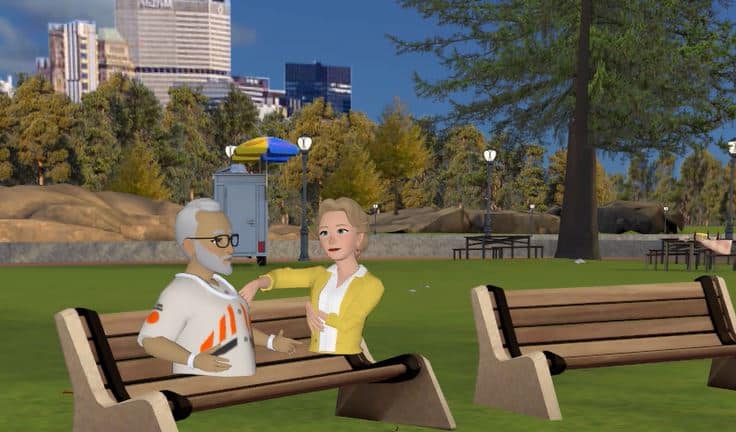 A Sense of Presence and Belonging
For those who may be physically restricted or unable to access traditional outdoor spaces, our virtual dog park offers a unique opportunity to connect with nature and animals as well as bond with other people. The immersive environment fosters a sense of presence and belonging, allowing users to temporarily escape from the confines of their physical limitations and experience the joys of being outdoors and surrounded by the companionship of dogs.
Tailoring the Experience
Foretell Reality's virtual dog park allows users to customize their surroundings, choosing from various interactive elements like a hot dog cart, a swing set, and a dock on a lake. You can sit in a semicircle and have a discussion while the dogs come to you to play or choose a more active setting to play around with the dogs and chase them around.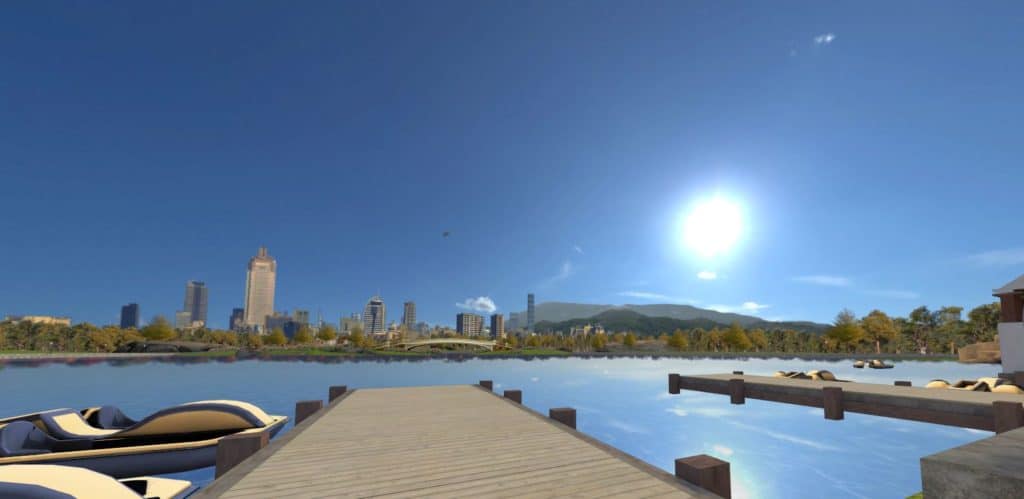 The Therapeutic Potential
While the virtual dog park undoubtedly offers moments of fun and delight, its potential for therapeutic use is profound. Research has demonstrated that interactions with animals, even in virtual environments, can help alleviate symptoms of anxiety, depression, and loneliness. Moreover, the sense of accomplishment that comes from bonding with virtual dogs and engaging in playful activities can boost self-esteem and overall mental well-being.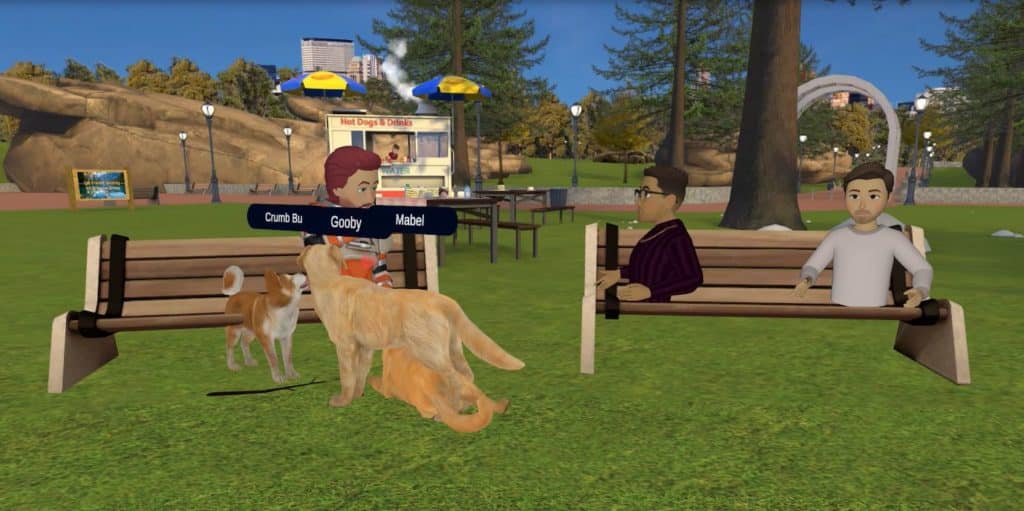 Closing Thoughts
As technology evolves, so too does our understanding of its potential to improve our lives in unexpected ways. Foretell Reality's virtual dog park is a shining example of how virtual reality can be harnessed for recreational therapy, offering individuals a chance to experience the joys of canine companionship and the healing power of nature, regardless of their physical circumstances. With each interaction, users can find solace, happiness, and a renewed sense of connection—one virtual dog park visit at a time.